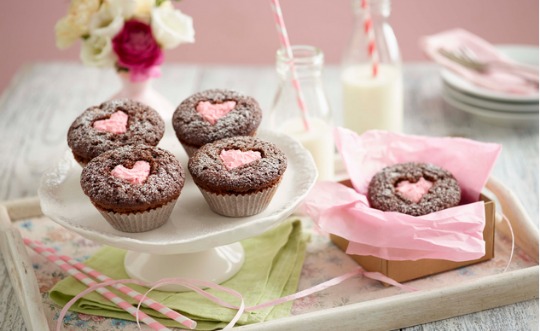 Looking for a last minute Valentine's Day gift? Well the way to man's heart is through his stomach, so why not have a go at making these gorgeous Heart Chocolate Cupcakes?
The recipe is one of the many free Valentine's Day recipes at Tesco Recipes, and there are lots of quick and easy things to make for edible gifts. There are also ideas for Valentine's Breakfasts, Meal Ideas and lots of yummy looking  Desserts and Cakes.
If you haven't got time to run to the shops for supplies, then there are lots of ideas that you might ba able to whip up from the ingredients already in your cupboard or adapt to what you have.  I'm tempted to make the Pomegranate Chocolate Tart, but leave off the pomegranate seeds from the top. ;)  You can find them all in the Valentine's Day section here.
(If you're really pushed for time you could always just make the butter icing from the recipe and pop it into pre-made cakes in little heart shapes... no-one will ever know.)