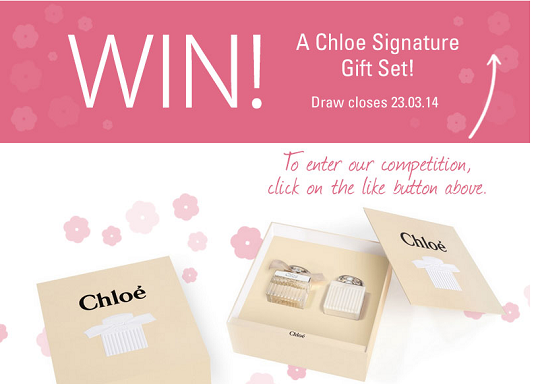 It is Sunday night and the weekend has slid so swiftly by. I really don't wanna work tomorrow! Waa! Anyway, join me on an amble across the internet to find some awesome free competitions that you can enter and hopefully WIN!
First up is the chance to win a Chloe Signature gift set 50ml courtesy of Fragrance Direct. You need to enter before midnight TONIGHT so there isn't much time on this one and to enter you only have to click Like and follow the instructions onscreen.  The question they DO ask you is very easy:
Q: Who is your favourite female celebrity?
Actually, I'd love to know who yours is. I am really enjoying the fact that there is a woman in Hollywood who isn't a plastic and pretentious doll – Jennifer Lawrence. What do you think?
Next up is the chance to win a coffee grinder and chocolate-flavoured coffee beans from online coffee supplier Cherizena and Whatson4me. Online and mail order coffee specialist Cherizena has put together a super prize for any coffee lover. The family run firm is offering one lucky person the chance to win a stylish coffee grinder and two chocolate-flavoured coffees in the run-up to Easter.
Cherizena sells specialist, premium and flavoured coffees via its online coffee shop www.cherizena.co.uk and then delivers by mail order direct to the door. What could be more convenient?
When it comes to coffee, they really know their stuff. Whether it's a rare organic coffee, a seasonal flavoured coffee or a coffee blend for regular use, Cherizena has something to suit all tastes.
Coffee is available as beans or ground, and either regular or decaffeinated. The chocolate-flavoured coffees being given away as part of the Easter prize are just a few of Cherizena's fantastic selection of superb flavoured coffees. Its latest coffee – banoffee pie flavour – is already receiving rave reviews. All of the coffees in Cherizena's flavoured range contain no syrups or coatings, and are perfect for use for cold frappés, as well as hot drinks.
To be in with a chance of winning a coffee grinder and chocolate-flavoured coffee beans from online coffee supplier Cherizena, simply answer the following question:
Q: What is Cherizena's latest coffee flavour?
A: A: Banoffee Pie flavour
I can think of nothing worse than flavoured coffee (urgh) but if this is YOUR thing, then enter before 15 April 2014!
Finally, I would like to remind you all to enter our very own competition to win a year's supply of cards from Scribbler*. Just fill in the reason why you love your mum on the comments section of the post before midnight on Monday 24 March and you could be walking off with 30 awesome cards. You can use these to buy for Christmas, Valentine's Day, Weddings, Birthdays – anything that you could possibly need. It's dead easy to enter and we really want to hear from YOU!
GOOD LUCK!
Thanks to pij805 at HUKD!