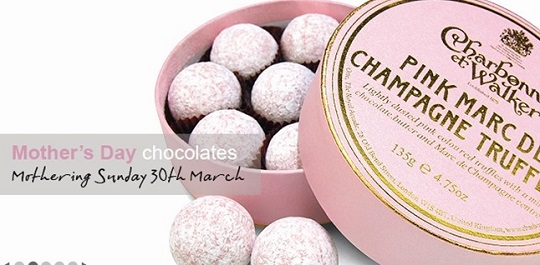 The Chocolate Trading Company is offering you free chocolates when you spend £15 or more in their lovely and tasty store. In fact, they have three new voucher codes that you can use to really get the best out of your shopping there. The first gets you free delivery on orders over £30, the second is a free bag of chocolates on orders over £15 and the third code is 10% off all orders.
Click here to get discounted by Chocolate Trading Company*
Discount: Free Delivery, free chocolates, 10% off all orders
Exclusions: I am not sure if they will all work together
Expires: 31 March 2014
Promotion Code: FREEDELCTC, CHOCOLATETREAT and CTCMOTHERS10
So, these codes apply to each discount in order of appearance and they are valid until 31 March 2014. They are absolutely perfect for all that tasty Mother's Day shopping and gifting and you can even get a free gift thrown in for yourself!
You can find this and many other lovely promotional codes on our Chocolate Trading Company voucher page right here.