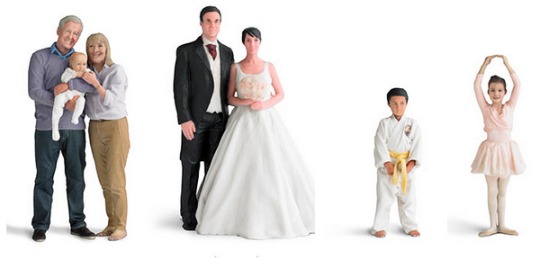 Have you seen this new amazing service from Asda Photo? You can now get a 3D  miniature model of yourself with Asda 3DME! All it takes is for you to enter a special booth, strike your pose for 12 seconds while the cameras take all the images they need to create the 3D model, then 2 days later you have a Mini Me!
There are loads of reasons why you might want to get these done, from making one of a kind wedding or birthday cake toppers, or a model of a child to give to grandparents. You might even want to capture a moment in your own life, like creating a model of yourself blooming in pregnancy or your child's first day at school.
The sessions need to be booked in advance, and are only available in larger stores where the photographic facilities needed have been installed. Prices vary according to the age and number of people being recreated, but they start at £49. You can even give the session as a gift card for someone.
There are loads more details and explanations of exactly how the process works on the Asda 3DME website pages.
So what do you think? Can you see yourself getting one of these figurines?