The Essential Baby Care Guide* is a set of four DVDs, with over 8 hours of content, neatly divided into the most common areas of child-rearing: Feeding, Care and Development, Sleeping and First Aid and Accident Prevention.  It is aimed at first time parents or parents who want to find out about the latest research in child care. The Essential Baby Care Guide is also especially suited to those who don't have the time or inclination to sit down and read a book, or attend prenatal classes.
Produced by the Essential Parent Company, this set offers a pretty comprehensive amount of information, covering everything from Breastfeeding and Formula Feeding to Introducing Solids to how to bath a baby, change a nappy, when an emergency is an emergency, suggestions for developmental games to play with your baby and so on.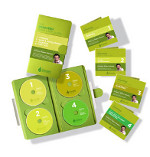 One of the things I liked about the information on the DVDs is that it is pretty factual, based on the latest research. It doesn't particularly favour one style of parenting over another, and doesn't demonise anyone either. The breastfeeding section talks frankly about some of the challenges of breastfeeding, and provides unbiased, good information, with actual experts – people who actually have experience with breastfeeding and breastfeeding mothers – and the formula bit doesn't demonise people who choose to formula feed, but rather explains how to prepare formula, and how to sterilise and so on.
I didn't experience any issue of guilt or trying to make anyone feel bad for their choices. It was informative, helpful and interesting. It's not all encompassing, by which I mean it's not going to be the be all and end all of breastfeeding questions, but it's a good starting point.
One of the biggest benefits of having your antenatal class on DVD is the ability to dip in and dip out as you need to. If you're having issues with sleep, or feeding, or baby's starting to crawl and you want to find out about accident prevention or whatever, you're able to pop on a CD while you're feeding, cleaning or sitting with a sleeping little one on top of you, and get the same information you received last time, which is so much easier to cope with than getting different advice from every person you speak to!
The one place the DVD's wont fulfill a need is in socialisation for first time or first time in a long parents. Attending prenatal classes gives you access to other people going through the same things. Now, it's not essential, once you have kids you have a myriad of opportunities to meet people and make friends, but it does help.
However, as a pregnant woman, first time round, we attended six private antenatal classes. They were fantastic, and I took notes like a true student, but I was exhausted by pregnancy and by the time the classes started at 8pm, I was ready for bed and I didn't take in everything that I could have. It's also really hard as someone who has never had anything to do with children to really be able to understand in real and realistic terms everything that you're taught in antenatal class.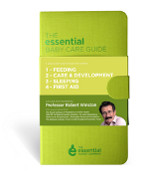 This DVD set is, in my opinions, perfect for that. There were so many times after our daughter was born that I'd consult my notes for things like "When baby won't stop crying, check to see that they aren't hungry, thirsty, dirty, or cold." It sounds dead obvious to me now as a veteran mother, but as a newbie my notes were essential! These DVDs provide in-home expert advice, and rather than having to root through pages and pages of books, the headings are there, the topics are well marked and indicated, and you don't have to scroll through reams and reams of opinion before you get to something useful!
Also, I find a lot of people in the UK are put off by things in American accent, and while there's a lot 'out there' for birth and baby preparation, a lot of it is aimed at the US. This is UK made, and Dr Winston is soft spoken, gentle and interesting to listing to. In addition, it's not just an old man spouting off how to be a mother, ala Truby King, but instead he's called on many experts, like St John Ambulance, The Royal College of Paediatrics, and UNICEF in the making of this DVD set.
If you want to see if and how this will work for you, you can watch live video excerpts on Youtube.
The Good
There's an expert on call in your living room and at your disposal day and night.
Rather than learning everything theoretically before your baby is born, you're able to top up your knowledge as you need to.
There's no guilting or manipulating in to one style of parenting or another.
I don't really know much about film editing and processing, but I thought this was pretty good quality.

 
The Bad
Nothing appeals to everyone, and with the benefit of hindsight I can see that the section on solids would have been off-putting for me as a parent. We followed baby led weaning, and apart from a few pouches when we were travelling, neither of my children have been fed on purees, we've always done Baby Led Weaning with both of them. The puree feeding section of the DVD would have put me off BLW, I think, and that is unfortunate.
Again, I didn't necessary agree with every aspect of the sleep information, but that's me. This set is a great starting point. Then it's up to you as parent to decide what works for you and your child.
The Verdict
I think The Essential Baby Care Guide is a really good set and I think it's a really useful gift for first time parents to be. I don't think anyone should blindly accept advice on any aspect of parenting, and it's prudent to always do your own research, but it's really nice in the beginning to have a resource like this on hand.