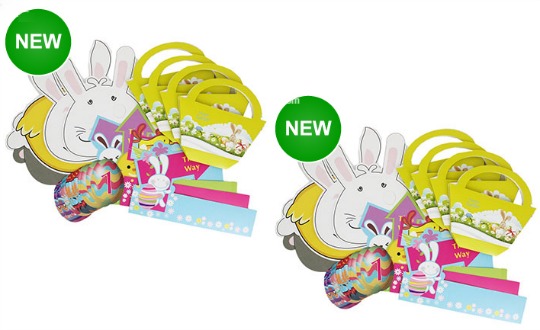 Oh Easter is my time of year, it's means that the weather is changing for the better, my birthday is upon us and LOTS of chocolate is to be consumed. Easter is such a fun time for the kids and you can enhance that hilarity by organising an Easter Hunt. You can buy kits for such Eggy activities BUT they tend to cost £££'s unless you go to The Works. They have this cutesy Easter Egg Hunt Set for just £1 and what's even better is that you will get FREE delivery when you enter the promo code FREE2DAYat the checkout.
This Easter Egg Hunt Set might not come with any chocolate goodies but you do get four masks, four baskets, four pointers and sixteen card Easter eggs. You can do the hunt by making the kids find the hidden card Easter eggs and reward them with a chocolate egg at the end as a prize or you can buy Creme Eggs which is what I tend to do with the cardboard eggs.
This kit does require some assembly but it's simple, just tie on the elastic to the masks and glue the baskets together.
You'll find that voucher for The Works along with loads of others over in our voucher section.