Collage Poster Prints @ Photobox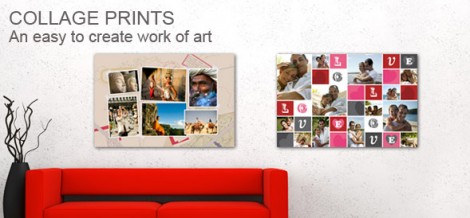 Are you feeling lucky? Do you fancy a bit of a gamble? Well, I've just had an email from Photobox offering 30% off their new large posters or new collage posters for the first 1,000 people who place an order and enter the code: 30POSTER
Now I tend to work on the assumption, with offers like these, that most people won't go for it because they think that the 1000 limit will already have been reached - so what the heck, have a bash and see I'm right!
Even if I'm wrong, the standard price for both of these new Photobox products are incredibly reasonable, in my opinion, and won't break the bank!
The collage poster sizes are: 18" x 20" or 30" x 20" and the large poster sizes start from: 12" x 12" right up to 45" x 30".
The collage posters are my favourite - they are utterly ideal for people, like me, who struggle to decide on just one photograph to have printed and there are various designs available.
Photobox will take away all the colour guess work for you too - sometimes a photograph can look fabulous on your screen but be very wishy-washy when it's printed, Photobox have an easy colour calibration took so you're both 'printing' from the same colour sheet, so to speak.
So that's enough chat, rush on over to Photobox and see if you're one in 1000!