Mother's Day is fast approaching and it's time to start your shopping, and fortunately Clinton's has made that quite easy.  They sent us a range of gifts and goodies to review, so here are our thoughts.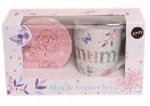 We were sent a very pretty Sketch Butterfly Mug and Coaster Set (£7.99), which would make a lovely gift for a mother who likes mugs. The mug itself is decorated with butterflies and flowers and has a butterfly painted on the inside. The mug is not microwave or dishwasher safe, which is a bit of a pain, but it is very pretty. The coaster is cork backed, and has a lovely rose design.
The set comes wrapped in a cardboard box that continues the theme and the whole presentation of it is, as I said, very pretty.
The Sketch Butterfly Mug and Coaster Set is available with the word Mum, Grandma or Nana on it.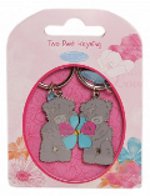 If you're really close to mum, the Two Part Keyring (£4.99) might be more your thing. Basically you have two Me To You Tatty Teddies each holding half a flower in pink and blue, with the words 'Mum' and 'Me' on opposite sides of the flower.
Once again this is a really cute idea and it would make a nice little item to give your mum.  These are metallic keyrings with glazing on top and a little 'Me To You' badge on each key ring. It comes neatly presenting in a cardboard envelope with a window – although I'm sure it'll be a much more impressive gift attached to new house keys or car keys or something. Hey, we can all dream.
The final gift we were sent to look at was an Especially For You photo frame (£3.99). These are very pretty glass photo frame tiles with a 3x3 inch photo space and the rest of the frame is pencil-style drawings of flowers and butterflies and a little princess (or a little monkey) with the text "To Mummy" and "From your little princess" or " from your little monkey" written on it.
It seems to be really good quality and it is certainly well made. It's also exceptionally well priced, I think!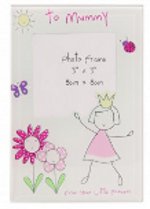 So, whatever gift you give your mum needs to be accompanied by a card, really, so you can tell her how much she means to you, right? Well, Clinton's have you covered there too.
They have cards available from 99p to £14.99 aimed at every female variant on the spectrum, including wife, Mother, Mummy, Mammy, Aunty, Godmother, Nan, Sister and even Stepmum. There are cards for every style too, from amusing, to sweet, to heart-warming and humorous and everything inbetween.
We received two cards, one sweet with the words "Happy Mother's Day Mummy , from your little angel" on the outside and "You're the best Mummy ever! Lots of Love! Happy Mother's Day" on the inside. It's also the pencil style drawings, so matches the photo frame quite nicely, although they aren't an obvious set.
The other says "For a lovely Mummy from your little rascal" on the outside and "A monkey, a monster, a rascal – that's me!  And you're the best mummy that ever could be! Happy Mother's Day" on the inside.
Both are really sweet and aimed at younger mummies and little ones, but there's enough variety.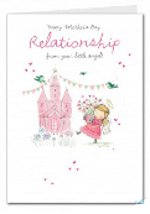 And of course, the final touches to the 'niceness' of a gift is the wrapping. Clinton's have plenty of those too, and not all of it is on the website. They sent us two "Me To You" gift bags, one with a 'real' image of a Tatty Teddy and one with a drawing of the Tatty Teddy. Both bags are selling for £2.50 and neither is to be found on the website.
One of the bags also had a variety of tags, which I thought was great as it gives you the option of removing the 'Grandma', 'Nan', 'Nanny' or 'Mam' tags that you don't need, personalising the bag a bit.
The Good
These are all lovely and they're all good. They are pretty, they seem good quality, and they're really good prices. Their variety and options are good and there's plenty to choose from.
The Bad
I honestly can't think of anything to write here. It's not that I'm trying to be preferential or anything, but it's all very sweet. Some of the things are a bit too trinket-y for me, but then that's me – I'm not really a trinkets person. It's certainly not a fault of the products.
The Verdict
If you're looking for a token gift or something to let mum know you're thinking of her on Mother's Day, Clinton's is a good starting point and it certainly won't break the bank.