The Chocolate Moon Review
'The Chocolate Moon' - the first thing that sprang to our minds was a huge chooclate moon hanging heavy in the sky, sooo tempting and yummy looking but out of reach.
Luckily we're talking about  a lovely mail-order chocolate company whose chocolates treats are most definitely within reach.
Now usually we have things sent to us and we then send them on to one of our parent testers; this time, however, we wanted to know how the whole process worked for our tester from browsing the website, to ordering through to delivery and, of course, then the eating.
We picked on PlayPennies mum Sadie and gave her the 'terrible' task of reviewing some chocolates from The Chocolate Moon
"It was a tough decision to make. "Hi it's PlayPennies here, we were wondering if you'd like to order and review some chocolates for us?" Oh hang on....erm....let me think about that for a moment...review some chocolates? YES PLEASE!"

The only thing we had to send Sadie was the www.thechocolatemoon.co.uk web address and the rest was down to her.
"From the moment the page opened I knew I was in for something  a little more special than a slab of Fruit and Nut," Sadie revealed, "the design, the colours, the images! I was ready to dive in and indulge my inner-chocolatier."
Sadie went on to tell us that she thought the ordering process was going to take a few minutes, when in actual fact it took her two DAYS!
"The length of time it took me to order from The Chocolate Moon was purely down to the fact that I couldn't make up my mind which chocolates to choose!" she confessed, "There are so many amazing flavours and variations that just choosing one thing was TOUGH!"
In the end Sadie took the plunge, stepped away from the safe and traditional and decided to try something she'd never tasted before; Chilli Truffles.
"They'd called to me right from the start. They're different, they sound daring and I thought 'what the heck!' I'm going to give them a bash!" Sadie explained.
The ordering process was quick, simple and plain-sailing. Just choose your chocolates, add them to the basket, fill in your details and pay; that's it.
"I got an email confirming my order had been recieved," Sadie told us, "and another one that same day, telling me my order had been dispatched. The Chilli Chocolate Truffles arrived the very next day, the service really was very quick."
"The chilli chooclate truffles were packaged in a clear cellophane bag, tied with gift ribbon and had a Chocolate Moon gift tag attached to it; the bag of truffles came inside a tube-shaped box (can you have a tube-shaped box?! I can't think of a better way to describe it, sorry)."
We really liked the look of the packaging when we had a quick peek at The Chocolate Moon website too, it makes a really nice change from the standard square box chocolates usually come in.
"Then it was time; time to discover whether I'd ordered chocolates that I'd love or chocolates that I'd take on bite of, spit out and then regret not ordering the Champagne Truffles instead."
When Sadie told us she'd ordered Chilli Chocolate Truffles we waited with bated breath for her verdict.
I'd heard all about chilli chocolates before and asked a few friends and acquaintances what they thought about chilli chocolate - was it right....or wrong?  The split between the two answers was about 50/50; which camp would Sadie fall into?
"OH. MY GOODNESS! If you've never tried chilli chocolate then you HAVE to try these Chilli Chocolate Truffles! They are A-M-A-Z-I-N-G!" was Sadie's verdict.
We think she liked them!

"The chocolate is dark, there are little red, yellow and orange chilli flakes on top of each truffle and the smell that rushes out of the bag when you open it is just fabulous.
They're firm to bite, but not too firm. To start with they don't taste much like chilli at all but after a few seconds the heat kicks in and THEN you know you're eating chilli chocolates!"
Sadie asked us to make sure we told you that the chilli heat wasn't unpleasantly hot, just enough to let you know it was there and make you think 'wow!'
The Chilli Truffles cost £7.25 for 150g which worked out to be 11 in number; in fact, most of the prices for all the chocolates available from The Chocolate Moon are £7.25, there are a couple of things for £7.95 and £5.95.
Delivery is very fast even though it's standard first class and will cost you £2.95 for orders under 600g or £3.95 for orders over.  You can also choose WHEN you'd like your order delivered by taking advantage of their scheduled delivery service...
You can now schedule the delivery of your chocolate gifts on a date to fit the occasion. When you order gifts from The Chocolate Moon, you can either have them delivered as soon as possible, or select a date within the next 3 months on which to deliver.
This way, you can take the strain out of remembering that special day - just leave the timing to us - we'll dispatch the gifts 2 days before your chosen date to ensure they arrive just in time.
And finally...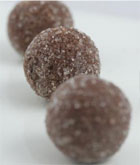 Sadie was over the moon with her entire The Chocolate Moon experience.
"The Chocolate Moon were an absolute delight to deal with and the chocolates were fabulous; I'll definitely be going back to them again and again and again," Sadie concludes.
"I know these aren't the cheapest chocolates in the world but you get what you pay for;  based on their service and the quality of the chocolates you're getting an absolute bargain."
So there you have it -  if you want hassle and stress-free service along with chocolates to die for, bookmark The Chocolate Moon and pay them a visit for Valentine's Day, Mother's Day, Father's Day, birthdays, 'Just Because' days and anytime you want to spoil yourself days.
I think I can feel a 'spoil myself' day coming on...