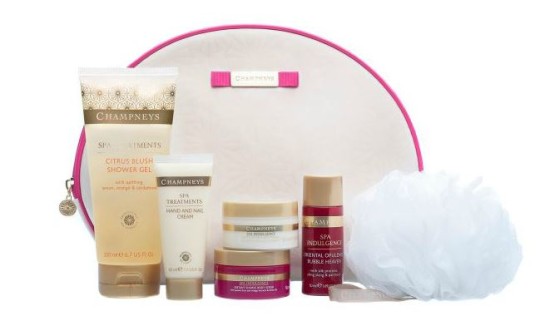 Boots has a few items on sale for those still looking for something for Mother's Day. You can still get it home delivered for £4.50 - £5.50, or you can order it to your local store for pick up for £1.95
There are a couple of ads on TV this mother's day that I can openly admit kind of cause a lump in my throat, having lost my mum a couple of months ago. When they start listing all the reasons mum is worthy of a gift, I do have to take a few deep breaths. Boots is one of those with the whole 'To Mum Because...' campaigns and they have some lovely gift ideas for mums.
One of the ones I quite like is the Champneys Spa Indulgence Best of Spa Deluxe Gift* reduced to £9.50 from £20.  As a gift set, it contains
Distant Shores Body Scrub (50g)
Citrus Blush Shower Gel (200ml)
Oriental Opulence Bubble Heaven (50ml)
Exotic Retreat Body Cream (50ml)
Hand and Nail Cream (40ml)
Body Polisher
which is all a nice way of saying thank you Mum... with a bit of time out.