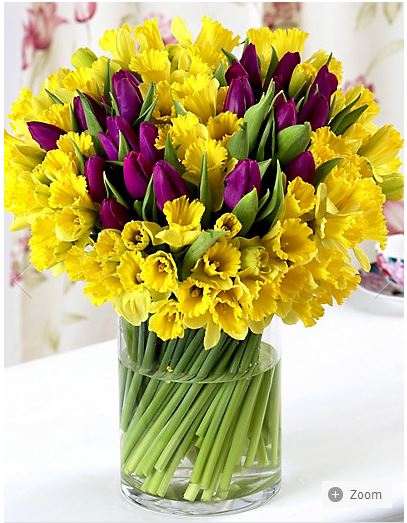 Mother's Day is around the corner now and every retailer out there is offering you every opportunity to not forget, and to spoil your mum. Marks and Spencer have an offer for £5 off the 100-stem bouquet, reducing it to £25 instead of £3o. Buy this bouquet for a mum in your life and you'll get delivery free too.
This gloriously spring time, bright and colourful bouquet of daffodils and brilliant purple tulips make this the  perfect spring time slash mother's day gift. It's so lovely, I may have to get it for my mother in law.
In this bouquet you are promised 80 x Yellow daffodils, 20 x Purple tulips and 2 x Large narcissi food. M&S offers a 7 day flower freshness guarantee. 
The reviews on these flowers are great. Apparently there are enough flowers in this bouquet to fill a number of vases around the house. They sure do look beautiful.
You can't collect these in store, they are delivery only, and it's free named day delivery, so that's pretty nice too. A little added bonus.