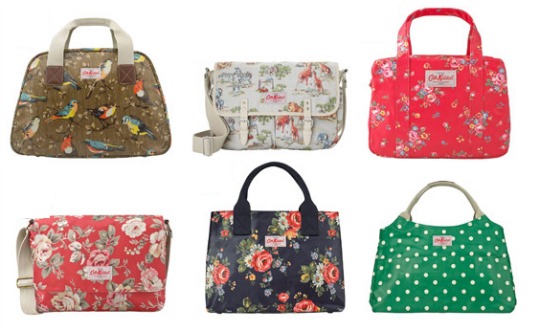 I've been checking out the Cath Kidston Outlet to see what they would replace the sale with now that it's finished, and I'm liking their new offer. The Outlet is chock full of a couple of hundred newly reduced items with 33% off. I'm thinking Mother's Day gifts... either for you to give to your own Mothers, or for you to hint at for your Mother's Day pressie from the kids. Good idea eh?
The Bags are the big attraction for lots of us, and these start from £10 for the Cotton and Book Bags, £12 for the Mini Zip Bag, and around £20 for the proper biggies like the Saddle Bags, Shoppers and Bucket Bags.
There's 33% Off Purses, Wallets, Washbags, Phone Cases and similar accessories too, and with prices from £4 there are some really cute little gifts.
Also there is a 3 for 2 Offer on Bathroom Accessories in the Outlet, covering the washbags, cosmetics bags and toiletry bags - this also includes the ones that are already reduced so you could end up getting a fair bit for your money if you fancy anything in this offer.
There are a few children's items, mainly satchels (from £10) with a couple of baby things, and a few fashion items too, though by far the widest selection is in the Bags and Accessories.
Standard Delivery costs from £3.95, is free when you spend £50, or if you are near a store you can use the Click and Collect Service for free.
Mother's Day is on the 15th March, so with 3 weeks to go this is just our first suggestion, but I know it's a good bet for my Mum or for me. (Are you paying attention hubby?)