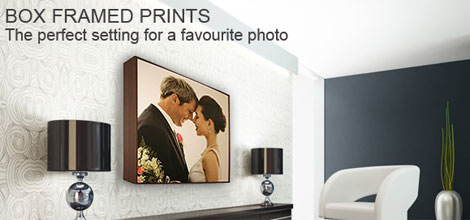 You have until midnight on Wednesday to claim your 25% off box framed prints with Photobox. This is another stunning way to display your favourite photographs in your home or office.
You know, it's a good job I'm running out of wall space for pictures, because with all these great offers from Photobox I could happily spend a fortune with them.
If you're not a fan of ordinary photo frames and aren't keen on canvas either, then box framed prints are a great alternative that you might like to consider.
The frame is 4cms deep and is available in three finishes: black, brown or natural wood. Your picture is printed on 200gsm posh paper with inks that wont' fade; there's no glass either so your picture is finished to give it a protective satin covering.
You can use landscape or portrait images and the frame sizes start at 25.4cm x 20.3cm for £24.99, right up to 61cm x 45.7cm for £59.99.
You aren't limited to photographs though- photograph your favourite picture that your child drew in high resolution and you can turn their little drawing into a huge masterpiece.
If you have something like Photoshop, then you could create an image using some special words and have those framed instead - the possibilities are endless!
Production takes about 12 days and don't forget to use this code - SEPBOX25 - before midnight on Friday 17 September to get 25% off the price.