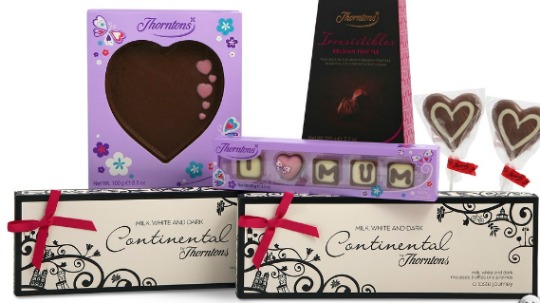 If you haven't sorted out Mother's Day gifts yet (neither have I) then this discount code from Thorntons could work out really handy. You get 20% off everything at Thorntonsonline when you enter the code MDAY20 at the basket, and it works on items that are already reduced as well! 
This means that if you were to order one of the Mother's Day Gift Collections, like The World's Best Mum* gift, it is reduced from £30, down to £20, and the code takes off a further 20% meaning it's only £16! That's just about half price! And it even comes gift wrapped for free as well! There are several Mother's day Gifts that are reduced in this way, and getting those works out at the best value, but the code should work on everything.
Click here to shop @ Thorntons and use the code MDAY20*
Discount: 20% off everything
Expires: 08/03/15
Code:MDAY20*
Delivery charges will add another £3.95 if you are spending less than £30, but will cost only £1 when you spend over £30. If you're like me you'll be in charge of buying for both Mums (and probably for myself as well), so it would be really easy to hit that £30 for the cheap delivery.
The code also works on personalised gifts, so if you want to get any of those then you're getting an extra special chocolatey pressie to brighten Mum's day.