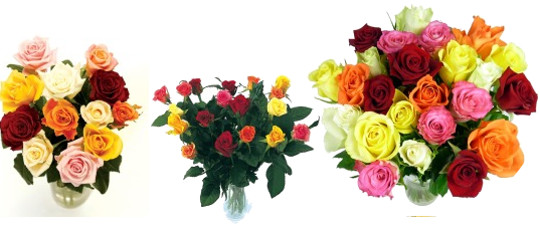 Listen up dads! If your other half goes or has gone to a huge effort today, and tries to make your day really special, or she's put a lot of thought and effort into your gift 'from the kids', a little thank you won't go wrong. Post A Rose has £3 off a bouquet of 12 mixed roses, which they're selling for £16.79 instead of £19.95.  Depending on just how grateful you are, you can upgrade that to 18 roses for £21.04 or 24 roses for £25.29.
I know people forget this, but getting knee deep in paint to makehand print cards or foot print bookmarks is generally more fun for the children than it is for mum. Not to mention that cleanup normally takes longer than the craft activity, and quite frankly, I sometimes wish I'd just a present instead.
So, really, saying thanks for the effort wouldn't go amiss.
The Classic 12 mixed rose bouquet is a wonderful gift of superb roses from deep red, blush pink to golden yellow. It stands approximately 55cm in height and they're guaranteed to stay fresh for 7 days.
If you order today, they can also be delivered on Tuesday, for free. Bonus.