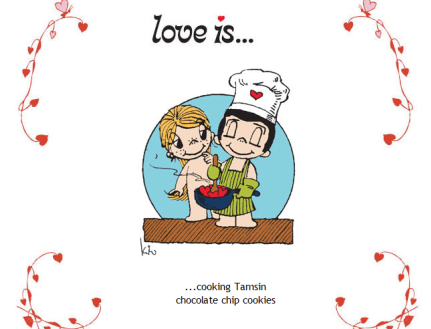 Oh yes, you read that correctly. It's Your Story.co.uk have an exclusive discount for PlayPennies readers for a stunning Love is... storybook for Valentine's Day. It is just the most gorgeous way to say "I love you" to your partner and to bring a nostalgic smile to your face.  Just enter the code PPENNIES10 at the checkout.
There are 24 different Love is... illustrations from the original artwork by Kim Casali. I adored Love is... as a kid and these books have just made me melt. How lovely. So, you get to choose 12 out of the 24 illustrations and your names will appear on the cover too.
You personalise each and every illustration with your names, and things like your favourite food, TV programme, and restaurant and so on. Then in each picture your names and the cute message will appear, completely done to your own personal history. It is so cute!
The books consist of 32 pages digitally printed onto thick paper with a laminated cover. They are 20.6x21.7cm and cost £17.50 without postage and without your exclusive Play Pennies discount.
I hope you have as much fun creating your own personalised book as I did. This is parent pampering for Valentine's Day at its best. I just know my hubby will melt when I get this to him.