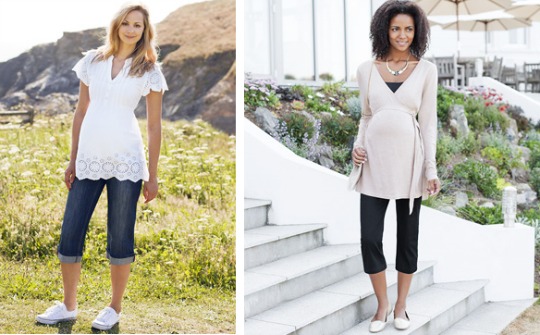 Available in Black, Navy or Stone and in sizes 6 up to 18, the Twill Cropped Trousers were originally £29 but are now reduced to just £5. The Cropped Denim Maternity Jeans are also £5 and available in sizes 8 up to 14. Standard delivery is automatically free.
Maternity wear is a tough one. While you can be loathed to pay out a fortune for clothes that are only be going to be worn for such a short time, you don't want to spend months looking like a bag of washing (though that may just have been me!) either. Tops are easier, you can buy them in a bigger size and get away with it but unless you want to live in leggings (and if that suits you go right ahead!) if you're off on holiday, need smarter clothes for work, or are just looking for a change, I think these cropped trousers are great value from Jo Jo Maman Bebe.
As above, the twill cropped are available in 3 colours, black, navy and stone and from 6 up to 18. A couple of sizes are out of stock but not as many as you'd expect at this price-they still have a great choice and are available to buy in every size, although not in every colour.
These are 96% Cotton and 4% Elastane, so they'll keep you cool but should still hold their shape. Machine washable at 30 degrees, the inside leg measures 20 inches or 51 cm.
They have really great reviews too, a typical reviewer commented :
Having read other reviews I went for a size 12 having been a 12/14 pre pregnancy, the trousers are great, smart, very comfy with a stretch material and perfect length for me to wear to work throughout the summer. I went for 2 colours but considering getting a third pair as I have lived in them for the last 4 weeks. They also have belt loops if you fancy wearing a belt with them, highly recommend.
Have a read for yourself and see what you think.
The cropped jeans also have really good reviews and here's what one lady had to say :
Comfortable and a good fit, I am very happy with these jeans. On hot days they are more comfortable than my over-bump jeans, and they look good. I do find myself pulling them up occassionally, but I guess this is typical of under-bump jeans.
Standard delivery, as always  from Jo Jo Maman Bebe, is automatically free.