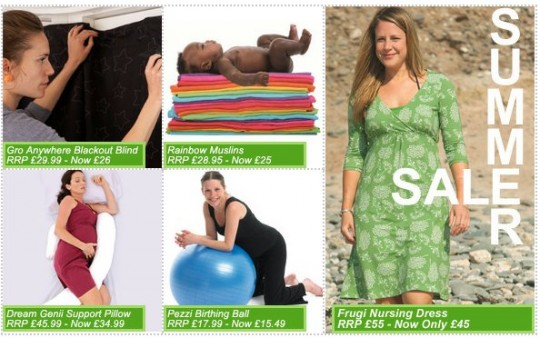 The NCT Summer Sale is on right now, with savings in almost everything you could ever want for maternity, birth and your new baby.
The NCT shop is your one stop spot for everything you'll need to get you through your rgnancy and beyond. If you're planning on going natural, the Elle TENS, reduced from £69.95 to £55 could be your best friend, and if the thought of a starched hospital gown doesn't quite sit right, theKT Birthing Gown for £36 instead of £49.99 could be just what the doctor ordered.
Of course, you'll want to feed your little bundle, so £10 off the BOOB Nursing Blouse Carmen isn't going to hurt, and if you want to show off those new mama assets, the Sweetheart Nightiein purple should do the trick. You'll also find some of the best rated breastfeeding accessories.
After your first baby, you tend to realise that all those 'essentials' aren't really essentials, but a few bits are really useful to have.  For instance The bednest for safer co-sleeping, or the very baby-friendly Close Parent Caboo Carrier which is reduced to £59.99.
All babies do need clothes, though, and you'll find a nice selection in the sale, and you can never go wrong with toys either.  For the biggest bargains, check the clearance section too.
If you love shopping, love feel good shopping, knowing that all the profits go to helping families in the UK on their journey to and through parenthood. If you don't know much about the NCT, spend a few minutes and see what they offer in your area.