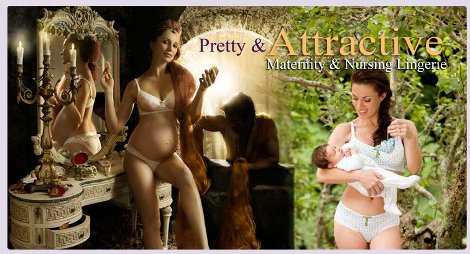 There's a sale on maternity and nursing bras, maternity and nursing nightwear and swimwear at Bras4Mums at the moment. While the blurb says there's up to 50% off, there's a lot more than that on some items.
Bras 4 Mums is one of those companies that takes maternity and nursery underwear out of the realm of the dull and into the sensual, catering for mums who still recognise their womanhood despite their childbearing capabilities.
You're not confined to plain white bras with nursing fronts here. Have a look:
The HOTmilk Her Desire Was Dangerous Nursing Bra was £34.40 but is now £13.75 is a black sheer mesh overlays an opulent red microfiber and black lace bra.
If you're going for pretty over sexy, the HOTmilk She Blushes in Delight Nursing Bra is the same price, but is a pink rose embroidered mesh combining beautifully with soft honey cream lace, and a scattering of rosettes.
For nightwear there are such items as HOTmilk Successful in her Ruse Breastfeeding Nightdress down to £41.95 instead of £59.95 or the  HOTmilk Lost in the Moment Pyjama Pant with ribbed cotton waistbands and drawstrings for adjustable comfort and are trimmed too in the soft cotton modal frill for £19.95 instead of £28.50.
There are 65 items to choose from, so there should be a little something for everyone.