Melba London Maternity Wear Review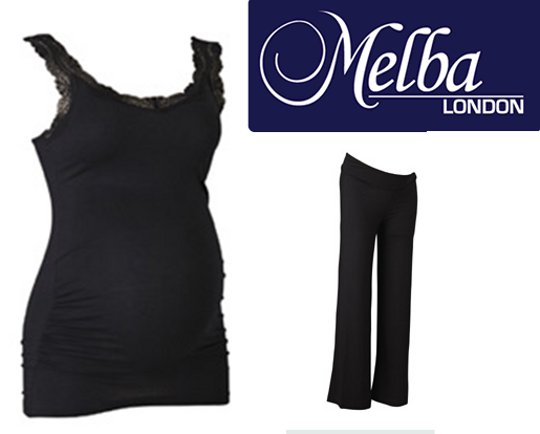 I was really lucky in this pregnancy to be able to try out some fantastic brands and clothes and try a wide variety of things that in my first pregnancy I never tried, because, quite frankly, I didn't know they existed. My maternity clothes were off the shelves from leading baby and maternity shops and that was all I wore or knew.  This time round, however, the World Wide Web has been my friend, and not only have I found things that have been comfortable, and practical, but also feminine and simply lovely.
One of my favourite items of clothing this pregnancy has been Black Maternity Camisole and the Roll Top Trousers from Melba London.
The camisole is beautifully soft and stretchy and has a lace trim at the neckline and shoulders. This trim is wide enough to cover your bra straps, so you don't lose the valuable support in that area, and the ruching around the belly area is incredibly flattering as it allows the top to be form fitting and grow with your bump, which with a beautiful bump can be very sensual and certainly made me feel very feminine.
Of course, in this weather I wear it under something else all the time, and have loved that it is so form fitting that it almost hides the other lumps and bumps and adds in creating the blooming beauty mirage, whether 100% true or not!
The trousers are just as lovely. They're soft and flowy and again, incredibly feminine. I think that's probably to do with the slight bell-bottom flair, which is great as it removes emphasis ever so slightly from the abundant hips. It also has a roll-top, so it can easily be worn under or over your bump, as you prefer and feel most comfortable.
Both wash very well and dry very quickly and are very good value for money.
P.S. Melba London have offered PlayPennies readers an exclusive 20% off until the end of July.