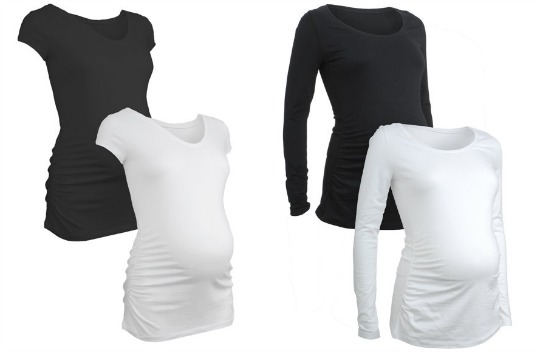 I'm a big fan of basic maternity clothes that you can mix and match and use with some of your existing clothes and accessories. It makes maternity clothing much cheaper and less of a hassle.
Mothercare have packs of basic t-shirts with either short sleeves or long sleeves reduced from £18 to £10. In each pack you get one black and one white.
There are no patterns, frills, colours or decorations on these basic tees, but this means that they will go with absolutely anything and everything. I lived in t-shirts like these for my last pregnancy, paired with a good comfy pair of maternity jeans, and then wore my pre-pregnancy cardigans (I have a lot!).
You can get these packs of t-shirts delivered from £3.95, or you can click and collect for free from Mothercare stores.