Mamalicious Maternity Range Starting from £5.99 delivered @ Argos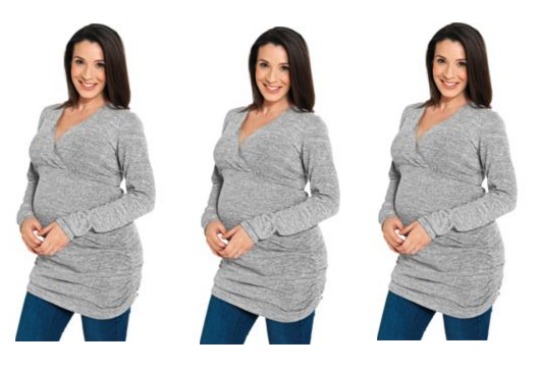 Who knew Argos sold maternity wear? Well they do, and it's a really good price just now. They have most of the Mamalicious range better than half price and with free delivery. Starting at £5.99 delivered for a maternity vest, you can't really grumble.
If you're like me and you live in leggings and dresses throughout your whole tummy expanding experience, you will find a small range at Argos. I would certainly suggest no lady be without a pair of black leggings throughout their pregnancy, even if it's just to slob around the house. Here they are at £6.99 delivered. Why not grab a couple of pairs to last you throughout?
Another maternity essential is the wrap top. They are flattering, stylish and are a Godsend once you have had baby and you're trying to hide the gelatinous mess that is your new tummy. The crossover top pictured above is only £10.99 delivered.
It's the summer just now so if you want to stay cool then they have a very nice, colourful maxi dress that is now a fresh £17.99. If truth be told, I am still wearing some of my maternity dresses.
The black waterfall cardigan was £32, but is now £12.99 delivered. Yet again, something that is vital to that baby bump wardrobe. They have a nice bootcut or slim jeans for £17.99 delivered. I really struggled to get a nice pair of maternity jeans for a reasonable price.
If you are going on holiday or just simply relaxing down at your local pool they have a rather tasty printed tankini for a tiny £13.99 delivered.
The range isn't huge but it covers the essentials in my opinion and getting free delivery means you won't have to waddle down to your local Argos to collect. Most items have the full range of sizes.