If you're preggo (or know someone who is) and looking for something a little extra special to wear then Isabella Oliver is the place to visit, and as 'luck' would have it I have an Isabella Oliver promotion code that is giving a 20% discount on their range of maternity dresses.
Discount: 20%
Minimum Spend: £0.00
Promotional Code: DRESSES20
Expiry: 25 May 2010
Applies to: Maternity dresses only
Click HERE to sashay on over to Isabella Oliver (there's no other way!)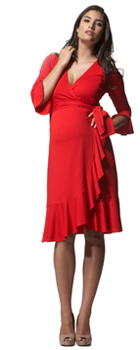 I drooled over all the things at Isabella Oliver sooo much when I was pregnant I'm amazed I didn't dehydrate; their clothes are just lovely, so lovely in fact that I didn't care about the rather large price tags hanging off them.
If you were going to kit out your entire maternity wardrobe from here then a swift call to your bank manager to arrange for a small mortgage might be in order, but if you're just after a couple of pieces to wear on special occasions that will make you feel fab and glamourous, rather than flab and enormous, then they're perfect.
Here are a couple of their dresses just to whet your appetite whilst you make that call to the bank *grin*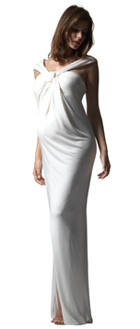 If I was in the market for a super-special and super-sexy maternity dress then it would have to be this RED ruffle wrap dress!  I LOVE wearing red and would have loved something like this to feel wonderful in.  It's £109 so definitely NOT cheap, but look after it and you could sell it on eBay for a good price when you don't need it anymore and spread the Isabella Oliver love around.
If you really fancy blowing your budget on something A M A Z I N G for a very special event - wedding, anniversary dinner or something similar - then how about this utterly stunning Audrey Dress?!  It's breathtakingly beautiful and that's just how you'd feel if you were wearing it.  It comes in black or oyster and has a failry hefty price tag, but OHHHH it's worth it!
To get the 20% discount just enter DRESSES20 into the promotion code box in your basket; delivery is free on orders over £50 and returns are free too.
Thanks to edi over at HUKD!