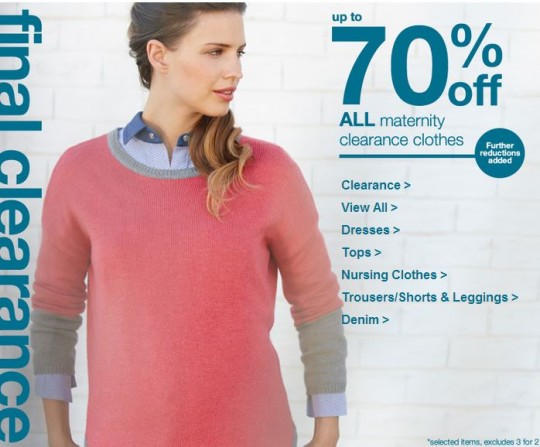 Mamas and Papas have up to 70% off on Maternity clothing at the moment, with prices starting as low as £4. Unfortunately the delivery charge is £4.95, but there is a free click and collect option, which helps if you have a store around.  Free delivery is also available on orders over £50.
There seems to be people having babies all over the place - I've had two, TWO, pregnancy announcements in my friendship group today. Love it, but wow. This offer from Mamas and Papas for up to 70% off will go a long way to helping them, I'm sure.
One thing I loved when I was pregnant - while I never looked like these pregnant ladies - and could never have enough of was Cami tops. They stopped my bump from showing under normal shirts, and gave them a little more length, which was brilliant, and saves a ton of money on buying a whole new wardrobe. This white one costs just £4.
If you're working till the end of your pregnancy, some of the tops would go really well in the workplace - like the corsage top reduced to £8 from £28.
Happy pregnancy!