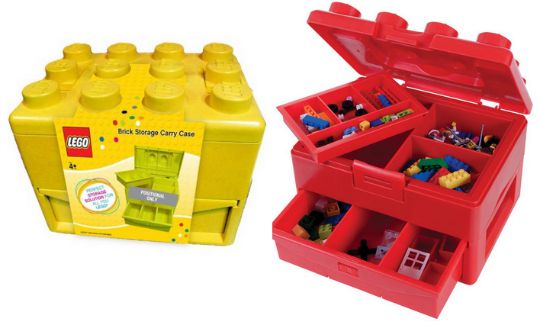 This is a great price for any little Lego fan's! Perfect way to keep all those Lego pieces in check. The Lego Carry Case in Red or Yellow are now down from £24.99 to just £10.42 at Amazon right now. Be quick, I don't expect they will hang around for long at this price.
This is a great storage solution for all your Lego pieces, plus it looks great and is nice and compact enough to be able to carry around. It contains several compartments and drawers to organise and store your Lego and even has a removable tray and drawers. Definitely one worth putting by for Christmas or Birthday's, who doesn't love Lego?!
This is a great alternative to the Lego Storage Head's. And I'm sure if you had several of them you would be able to stack them, so they don't take up as much room.
If you have Amazon Prime or spend over £20 then the LEGO Carry Case will be delivered for FREE. However anything under £20 or without Amazon Prime, delivery will start from £3.30.