Pre-Order: Lego Ideas Doctor Who Tardis £49.99 @ The Entertainer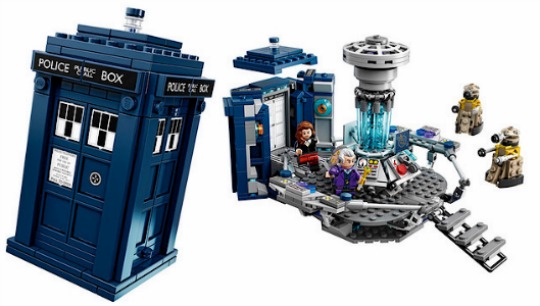 Did you know that Lego have such a thing as Lego Ideas? It's when the public put in what they like to see made into Lego sets, like Ghostbusters or a scene from Friends. It then goes up for a public vote, if it gets enough then they produce it. That's what's happened with the Lego Ideas Doctor Who Tardis Set. It's not actually out yet, but is due approximately at the end of November, beginning of December. You can now Pre-Order it from The Entertainer for £49.99, and as far as we can see, this is the only place we can find that are offering. That could mean that these will go quickly even as Pre-Order.
With the Lego Ideas Doctor Who Tardis you get all the Lego blocks to make the Tardis itself plus assorted Accessories, The Eleventh Doctor Minifigure, The Twelfth Doctor Minifigure, Clara Oswald Minifigures and two Daleks.
This is like the ultimate Lego set for my eldest son and I would imagine for a lot of children and adults. If you are a Doctor Who fan or even a Lego one, this is a create Collector's Item.
Please note that with Pre-Ordering at The Entertainment the payment will be taken when order is placed (NOT when dispatched).