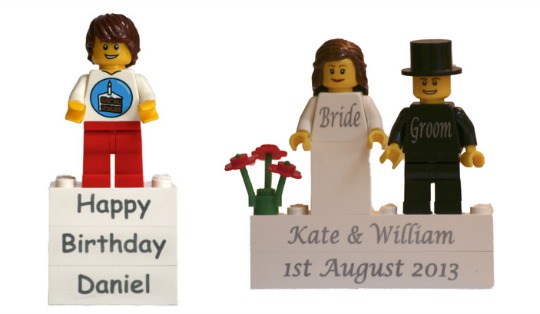 I think everyone knows how daft I get about LEGO by now, but I wasn't the only one who was impressed when Heidi told the PlayPennies team about the Fab Bricks website this morning. They sell personalised Lego bricks, minifigures, key rings and more, and for something so unique and original their prices are fairly impressive too!
The names are engraved on, so they're going to stay on, and they will put it onto whatever you choose.
The minifigures are fantastic! As well as choosing one of the official characters like Harry Potter, Gandalf, Buzz Lightyear and so on, you can choose the Minifig Creator to make a mini-me with your name on it! I know I shouldn't say "awesome", but this really is! And I think £5 for a minifigure of yourself with your name engraved on it is pretty special.
They do amazing cake toppers and the Birthday and Wedding Cake ones are so special. In fact I need to place an order right now, as I've just realised how much my son would love one for his birthday cake! And maybe a key ring for his school bag would be good too, plus one for me... ;)
Delivery costs are based purely on the weight of the parcel, and as each order is created individually you get a personal estimate. I've got a feeling Fab Bricks are about to get a lot of orders coming their way. Thank Heidi x