Life Hack: Lego Storage Solution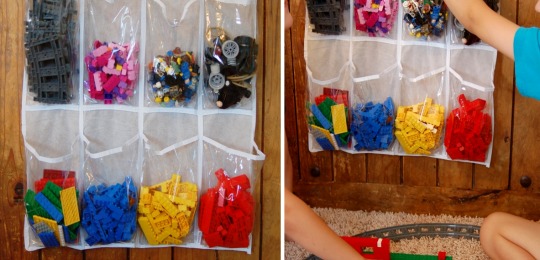 If your kids love Lego then you're probably finding it absolutely everywhere. I've got plastic storage boxes in all shapes and colours, but when I saw this idea on Kids Activities Blog I thought it was really clever. They have used a clear plastic over door shoe organiser so that the Lego bricks can be sorted by size and colour.
This makes it really easy for your kids to build amazing creations in super quick time, and without the grumps when they can't find the exact brick they need. It also creates a bit of space by using the back of the door, though I think I might put one on the front of the wardrobe door instead.
You can buy a similar 20 Pocket Door Hanging Organiser* storage bag from Amazon for £8.99.
An alternative that might work just as well is these circular hanging storage baskets* with compartments from Ikea, just £3 each, and they come in green, pink or blue.
This way works out an awful lot cheaper than buying those Sorting Lego Heads, and they just sort by size, not colour. What do you think? Will you be using this idea?