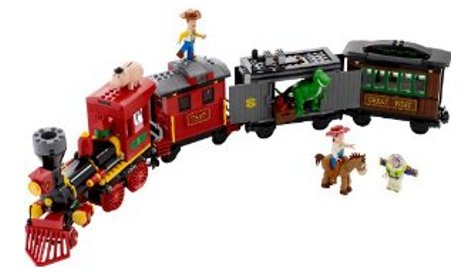 The Lego Toy Story Western Train Chase set is currently just £38.57 at Amazon giving you 53% off the RRP of £81.99. And if you think that's an inflated price, you'll find the same Lego Toy Story Western Train Chase set at Play.com for a whopping £89.90 – which, is a hectic price tag for a bit of Lego, in my opinion!
The outstanding Lego Toy Story Western Train Chase  set is a perfect replica of the train in the movie, say reviewers of this set.  "The colours are vivid, the details are amazing and it glides smoothly on the RC tracks", says reviewer OldBuilder.
The set comes with a construction booklet and there are 584 assorted LEGO bricks in various shapes. Included are Evil Doctor Porkchops, Rex, Buzz Lightyear, Woody, Jessie and Bullseye minifigures. There are magnetic bricks between the various carriages which hold them together, and if you have the Lego City Rails, this set is fully compatible.
The three train cars come complete with opening roofs, fully  functioning doors and trap doors along the rooftops for Lego-styled train-surfing. Or something less dangerous!
There's free delivery, but at this price, I don't expect the offer to last terribly long!
Thanks to Vurt at HUKD