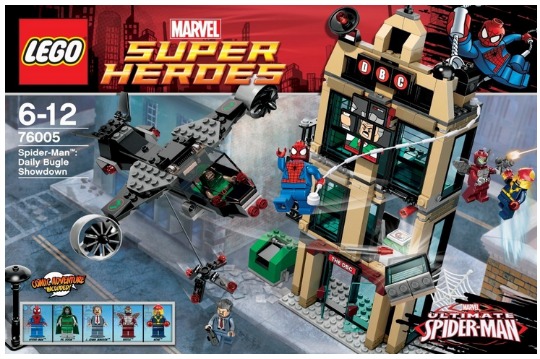 We like a good Lego bargain, and this big set has £10 off at The Entertainer right now. The Lego Superheroes Spiderman Daily Bugle Showdown set was £39.99, and now has £10 off, bringing it down to £29.99.  Lego is always pricey, but this 460 piece set gives you an awful lot for your money - including no less than 5 minifigures!
The set includes a Daily Bugle building, that features a rooftop trapdoor, sign and window explosion functions and swinging web attack. There's a jet to build with an opening cockpit, and anchor hook line and dual flick missiles. The dumpster (that's a big bin to you and I) has a catapult function, and there are other accessories like a streetlight and camera as well.
The five minifigures that are going to be battling it out at the Daily Bugle building are Spiderman, Nova, Dr Doom and Beetle. The Bugle's editor J.Jonah Jameson is there too, but I doubt he'll be much help in a fight.
The reviews are really great, and if you have any Lego mad children (or adults) to buy for then this is a brilliant looking set.
You can click and collect for free, subject to local stock levels, or home delivery is £2.99.