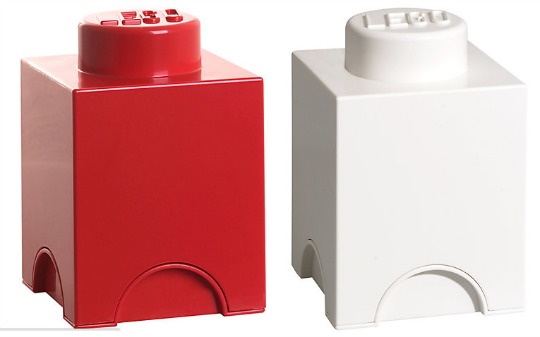 Wow! I have never seen these below £5 before. John Lewis have reduced the Lego one stud storage brick to £3.49 each. These retail for around £7 normally.
There's four colours available, but only the red and white Lego storage boxes are £3.49. The girly pink block is £5.47 (not as good a bargain) and the black is £6.99. Just click the link above and select the colour you would like.
These are not huge but have the ability to store small amounts of Lego which, in return should mean no more standing on the blasted stuff. What I like about these is they look like huge big pieces of Lego and you can add to them with other pieces. They stack up like normal bits of Lego and would look great in any child's bedroom.
John Lewis also have the Lego two stud storage brick reduced to £4.48 from £9.99. It is only available in green, however other colours are optional but at the full price.
You can collect your Lego storage block from any John Lewis or Waitrose store for free or if you'd prefer to have it delivered then it's at a cost of £3.