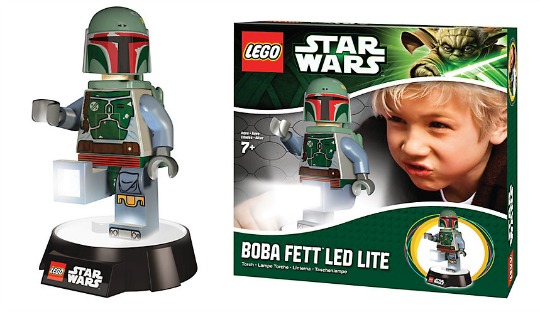 Lego is expensive, there's no denying that, so when we find anything Lego for half price we get a little excited! This LEGO Star Wars Boba Fett Light Set was £34.99 at John Lewis, and is now half that price at £17.49! The cheapest I can see it for sale anywhere else is £30, so this is a cracking price.
It's official Lego Star Wars merchandise, featuring the bounty hunter Bobo Fett (Boo! He's a bad guy, right?) Here's what John Lewis say about it:
Need a cool LEGO Star Wars Boba Fett toy? As you wish. This fun, posable 19cm Boba Fett mini-figure torch features a 30 minute auto-shut-off night light function. The figure is detachable from the light up base, which enables the torch function. Featuring light-angling legs, simply press the chest plate of the beloved bounty hunter to switch on the LED lights in both feet.
Now that sound pretty cool for a Lego fan, or a Star Wars fan, and if they're fans of both then you'll be in the good books for a very long while indeed.
There are plenty in stock at the moment, but John Lewis toy deals do tend to sell really quick when the word gets out.
Standard delivery is £3, or you can click and collect for free from John Lewis or selected Waitrose stores.