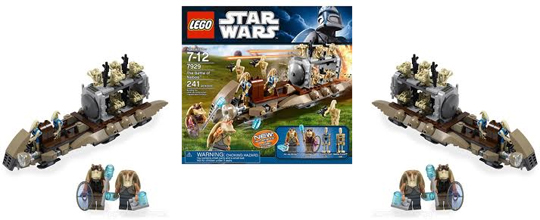 Boots are selling this LEGO Star Wars The Battle of Naboo set for £15.99, rather than £25.99; awesome.
Click HERE to take a look at this Battle of Naboo set
I've built this LEGO Star Wars The Battle of Naboo model and all of its clone droids - my youngest son has it and very kindly, one evening, delegated the job of building it to ME whilst HE supervised.
It was rather fun actually and makes for a really nice little model with lots of Star Wars battle reenactment potential to engage in afterwards.
It comes with eight clone droids, Jar Jar Binks, a Gungan solider and two battle droid pilot minifigures to put together.  When you're done with those there's the Trade Federation Troop Carrier to put together, which took me at least 45 minutes to make.
There are more glowing reviews for this LEGO Star Wars Battle of Naboo set around than you can fire a blaster at, here's just one of them:
"We bought this item for our eldest son who is slightly mad on Star Wars & Lego, this is what he thought:
When this arrived on Monday morning, I was delighted. I opened it straight away and made it instantly. It was quite easy to make, especially the droids. It created loads of fun for me and my little brother, who loves Star Wars as well. I think that the fact that it comes with loads of minifigures, mainly droids, makes it one of the best Lego Star Wars sets you can get. I recommend this to any Lego Star Wars fan."
You can arrange for home delivery of your LEGO Star Wars Battle of Naboo set if you want to pay an additional £2.95, or you can collect it in-store for free.
Thanks to botchy1 at HUKD