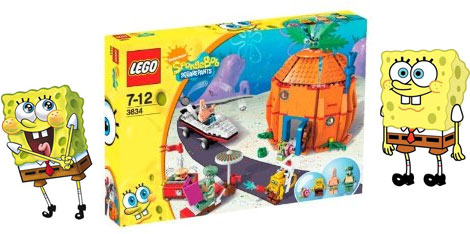 Lego Spongebob SquarePants...HURRAH!
*sings*....OHHHHHH who lives in a pineapple under the sea? (SPONGEBOB SQUAREPANTS!)...Absorbent and yellow and porous is he! (SPONGEBOB SQUARE PANTS!!)
Ok ok I'll stop singing - but THAT is what I had to endure for 30 minutes in the car one year when I was one of the parent drivers for a school trip, I had my daughter and three of her friends in the car and OHHH did they love singing Spongebob; I think I've been scarred for life.
This Lego Spongebob SquarePants set is called 'Down at Bikini Bottom' - you have to wonder whether the creators of Spongebob Square Pants had been at the cooking sherry when they dreamt him up - and it includes:
SpongeBob, Patrick, Squidward and Gary the Snail minifigures
Patrick's boat with marshmallow launcher
SpongeBob's pineapple home packed with details such as bed, TV, sofa and a grill with burger launcher
Measures 8" (20cm) long and 5" (12cm) tall
I love that Spongebob SquarePants' best friend has such an ordinary name - no offence to any Patricks out there, but you know what I mean, he could have geen given a friend called Fanny Face Flannel or something, but no...it's Patrick.
Most Lego Spongebob SquarePants sets tend to vanish off the shelves pretty fast, so if you want one of these I wouldn't dawdle - especially as Amazon are currently selling it cheaper than anywhere else for £36.77, instead of £46.99.
Thanks to BadgerPelt over at HUKD