LEGO Play Book, Read With Biff, Chip And Kipper And More With Free Delivery @ The Book People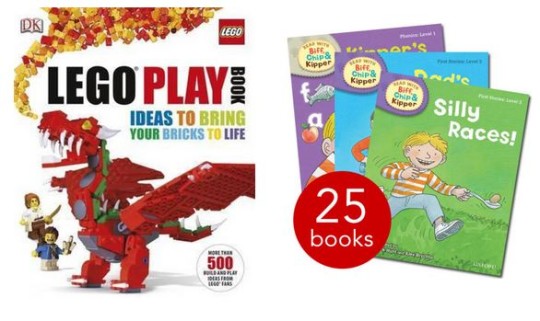 The Book People sale continues and the free delivery offer is still going strong with the free delivery code FLOWERS we've told you about before.  There are so many good offers at The Book People, but here are two of our favourites for today. 
We all love LEGO in our house, with my four year old being particularly partial to Friends. What I love about it is the endless possibilities for play, even when you go off the 'map' as she calls it! This follow-up to the LEGO Ideas Book, the LEGO Play Book will inspire you with its selection of building ideas, including some which make use of special bricks. This book has over 200 building ideas and includes suggestions for "Ten-Minute Builds" and "Cool Brick Features".  All this is yours for £3 - it's currently at Amazon for £9, so that's a pretty saving to me!
A bit too old for your audience? How about the Oxford Reading Tree, the Read with Biff, Chip & Kipper Levels 1 - 3 Collection has been specially designed to introduce children aged four and above to the early concepts that will form the basis of their reading and writing skills.
I can't find an exact match for these on Amazon, but the closest I see is currently £29.99 , so again, a fantastic discount at £13 from The Book People. "This collection covers levels 1 to 3 of the scheme and includes twelve phonics books, twelve storybooks and a parents' handbook packed with advice on how to help your child make the most of their introduction to reading".
Thanks to andywedge at HUKD