Lego Ninjago Lava Falls/Jungle Trap £5/£4 @ Amazon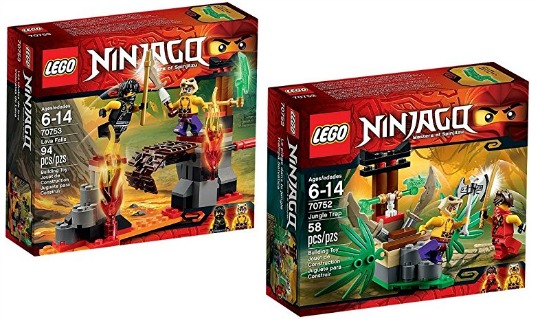 Lego Ninjago is one of the more popular Lego series, I would thank Cartoon Network for that. My boys aged 6 and 9 go daft for it. That's why when I came across two Lego Ninjago sets for under £10 I thought of children's parties. Grab one to gift or if it's your child's birthday, get one for pass the parcel. The Lego Ninjago Lava Falls is just £5 and the Jungle Trap is just £4. Spend £10 and get FREE delivery. Lava Falls would cost you around £7.99 elsewhere and Jungle Trap would be around £5.99.
The Lego Ninjago Lava Falls Set contains 94 pieces and is suitable for children aged six through to fourteen. You get a mixture of Lego bricks and two Lego Minifigures, Cole and Sleven with assorted weapons and accessories. This would make a very cool present indeed.
The Lego Ninjago Jungle Trap contains 58 pieces including two Lego Minifigures: Kai and Krait with assorted weapons and accessories.
The good thing is that buying both sets won't break the bank but will give your little one four different Ninjago Lego Minifigures. Remember, in order to get your Lego Ninjago order delivered for FREE you must spend £10 or more.