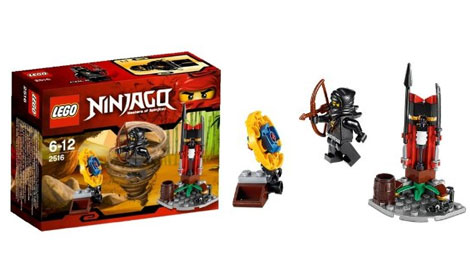 Amazon are selling this Lego Ninjago 2516 Ninja Training set for £2.33 instead of £3.99.
Yes, I know it's a little discount but it's a discount all the same and if your little Lego fan takes a shine to these, you'll be glad of it.
I don't get these Lego Ninjago dudes, but for a while my youngest was completely fixated with them; thankfully his 'love' for them has been eclipsed with his current adoration for anything Transformers.
The general gist seems to be the Lego Ninjago guys are sworn enemies with the Skeleton army and they need to fight them by doing spinning around things...an amazing description of, yet another, Lego franchise I know!
So, this Lego Ninjago 2516 set includes a Cole minifigure (he's the ninja) and features five weapons: a sword, spear, bow and two knives (no ninja stars though, are they still banned?).
You have to practice your aim and master all five of your weapons using the target.  The  Ninja Traning Outpost measures over 3' tall (7cm) and 2' (5cm) wide; quite big if you're only about the same height I suppose.
There's no delivery to pay with Amazon, fingers crossed they keep this little discount applicable for a while.
Thanks to shadow1 at HUKD