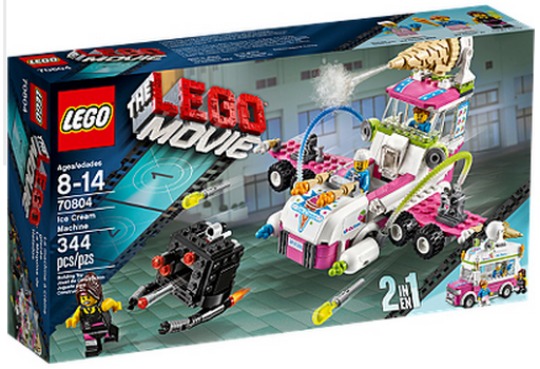 The Lego Movie was a great success not quite as much as Frozen but still great. The Lego Movie Sets are very collectable and can be pricey because of that. If you have someone that is a huge Lego fan, then you may want to consider this fab The Lego Movie: Ice Cream Machine Set. It's only £16.99, which is the cheapest around just now. It's £24.99 at Toys R Us, so this is a super price. Plus it's worth noting that you also get FREE delivery.
The great thing about The Lego Movie: Ice Cream Machine set is that it has 344 pieces that can make not just the Ice Cream Flying Machine but an Ice Cream van too.
The Lego Minifigures included are Ice Cream Mike, Ice Cream Jo, and Cardio Carrie. The Ice Cream Flying Machine had the ability to shoot missiles which is quite a nifty feature.
This is a reasonable size for a Lego Set that is under twenty pound. It would make an ideal birthday present for children aged eight to fourteen years old, or a reward for a good school report.