LEGO Lord of the Rings Pirate Ship Ambush £60.79 @ John Lewis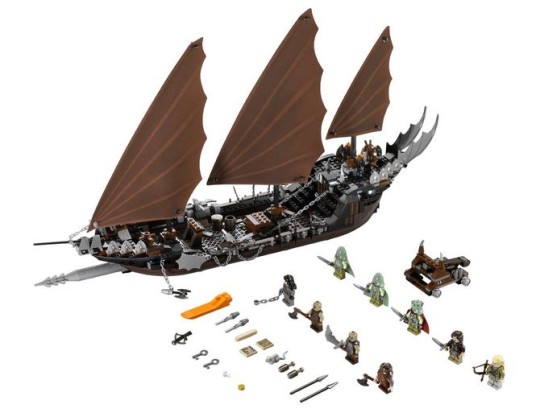 John Lewis has the LEGO Lord of the Rings Pirate Ship Ambush on sale for £60.79. This set is currently £66.99 at Smyths Toys and £69.95 at The Hut. John Lewis offers it as is with no delivery charge, so it seems like a pretty good price to me. It's also price matched at Amazon, if you prefer that.
"On the shores of Minas Tirith, Sauron's Mordor Orcs prepare to greet their allies aboard the Pirate Ship - but all is not as it seems. Pull up alongside them, drop the anchors and lead a surprise attack with Aragorn, Gimli, Legolas Greenleaf and the Army of the Dead."
Well that sounds like fun.
This Corsair ship features 3 large sails, a removable rear section with a dungeon and Pirate of Umbar prisoner, firing crossbow and loads of armor and weapons.  The King of the Dead figure glows in the dark and the set includes 9 minifigures with weapons and accessories. These are  Aragorn, Legolas Greenleaf, Gimli, 2 Mordor Orcs, the King of the Dead, 2 Soldiers of the Dead and a Pirate of Umbar.
There is so much in this set, actually. Along with the above, it also comes with 3 swords, 3 crossbows, 3 spears, axe, long axe, bow with quiver and a longbow, 10 plain shields, 14 decorated shields, shackles, 2 torches, 2 keys, rat, bread, diamond, coins, maps, goblets and a chain. Certainly enough to keep you busy for a while.