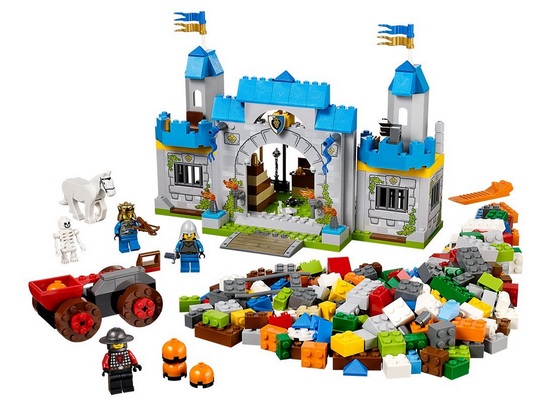 Amazon are selling the LEGO Juniors Knights Castle for £25.99, which is at least £8 less than anywhere else, if not more. And of course, at that price, delivery is free. We've had quite a few LEGO Juniors lately, but they have seemed to be more girl-oriented, so it's nice to have something more for the boys - but yes, girls can play with it too!
The evil black knight is trying to steal the King's treasure! Ride out with the brave King's knight on his white horse and stop the bad guy before he topples the castle walls with his big catapult.
Featuring Easy to Build models with lots of colorful LEGO bricks, this iconic, castle-themed set has been specially designed for first-time brick builders.
The set also comes in a brick-shaped box that's ideal for storing and transporting. The set comes with age-appropriate and inspiring building instructions to rebuild the Knights' Castle into an enemy tower or the King's horse carriage using the extra bricks supplied with the set. It also includes 3 minifigures, the King, King's knight and an evil black knight.
It looks like a great set for future generations of LEGO lovers.