LEGO The Hobbit: Battle of Five Armies £30 Delivered @ Amazon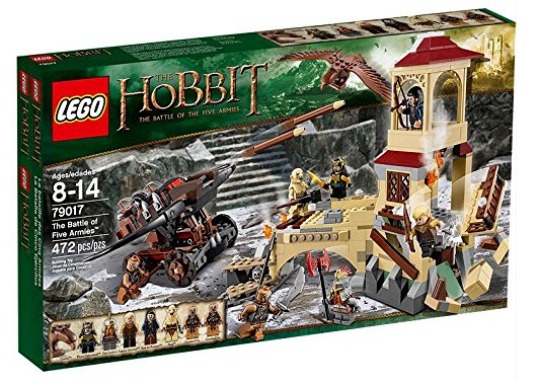 I always yak on about how collectable some LEGO series are but it's true. LEGO Star Wars, LEGO Minecraft and LEGO The Hobbit sets can really retain their value. The thing is for the big sets, they just don't come cheap. That's why when I saw this LEGO The Hobbit: Battle of Five Armies set for just £30 I got excited. This sells for £59.99 at Tesco Direct. Amazon will give you FREE delivery too as it is over £20. To find it at this super price just look down the right hand side after clicking the link below.
LEGO The Hobbit: Battle of Five Armies  has a very impressive FIVE star rating on Amazon. It comes with seven LEGO Minifigures (Collectable in their own right): Thorin Oakenshield, Dain Ironfoot, Legolas Greenleaf, Azog, Bard the Bowman, Two Gundabad Orcs and Gwaihir
There are also LOTS of accessories included like Three Orc Swords, Two Longbows, Mace, Red Ruby Axe, Short Sword, a Spear, a Skull and a Weapons Crate.
This is such a big set for £30. £30 wouldn't normally get you this much LEGO and it is rarely seen discounted by half price.