Lego Harry Potter 'Freeing Dobby' £7.99 @ Amazon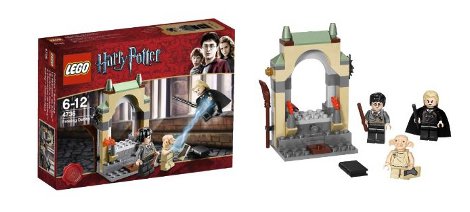 There's 24% off the Freeing Dobby Harry Potter Lego at Amazon at the moment bringing it from £10.49 to £7.99.
It was a rather sweet moment in the movie when Dobby realised his master had given him a sock – although Malfoy hadn't really, and I'm pretty sure there'd be a rule in a wizarding book somewhere that would have allowed Malfoy to keep Dobby as his personal slave if he'd really wanted to.  Either way, Dobby is freed and goes on to save Harry and his friends later, so it's a good thing al that happened, really.
Of course, you can reinact the scene or make up your own entirely, since this set comes with a buildable doorway with a lever mechanism to send Lucius Malfoy flying, a book and a sock, a spider, broom as well as Harry, Lucius Malfoy and Dobby figurines.
According to Amazon, the set is suitable for children aged six and up.  There's a 4.4 star rating on the set. There aren't any exciting pieces in this set, from a Lego building point of view, but the figurines are nicely made – or so say the reviewers.
Thanks  to BigRed01 at HUKD