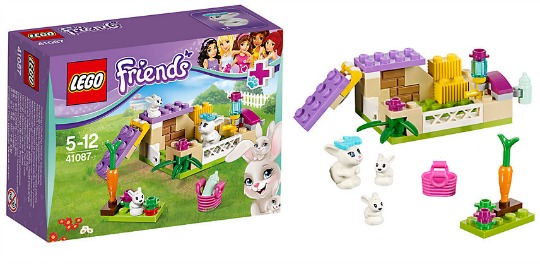 It's an Easter gift that's not made of chocolate, in case you're worried about the Easter Sunday sugar rush! This LEGO Friends Bunny and Babies set is only £3.60 at John Lewis right now, making it the cheapest place you can get it.
Here's what the description says:
Play with the cute bunny and her brand new babies. In the garden, a mummy bunny has given birth to 2 little baby bunnies. Help them drink from the feeding bottle and feed them carrots and radishes from the vegetable patch to help them grow strong. Build them a little enclosure to run up and hide underneath, then put them in the little basket when they're ready to go home.
This is a really good price for a LEGO set, and with the bunny theme is perfect for Easter. Of course if you would prefer the LEGO Easter Bunny itself, then John Lewis still have that in stock for £6.99 as well.
Delivery is from £3, or click and collect is free, and you can pick it up in time for Easter if you are quick.