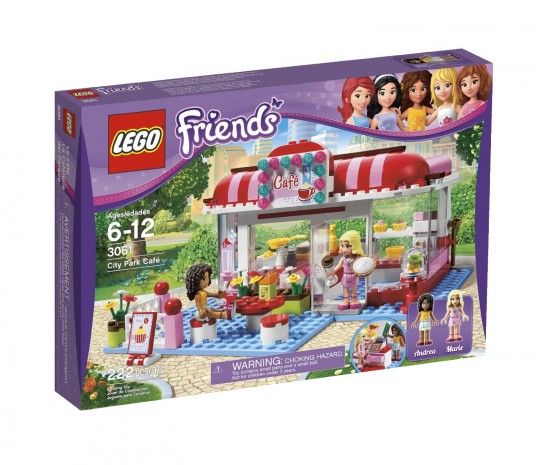 Lego Friends City Park Café has been reduced from £41.18 to £23.99, a 42% saving at Amazon. Delivery is free, and the item is dispatched by Amazon.
While LEGO Friends is aimed at 6-12 year olds, my not yet 4 year old absolutely loves it. She can't get enough of it, carries her 'friends' around with her everywhere, and loves building the sets by following the 'maps' as she calls them. She's responsible enough not to eat her LEGO Friends, or shove them up her nose, or something, so we let her play with them, and don't discourage new sets from arriving from time to time.
This City Park Café is bigger than the other café set from Heartlake City, and would be a great addition to the town.
It comes with two mini-doll figures: Marie and Andrea, and a list of accessories, including money bricks, frying pan, spatula, 3 muffin tins, mixer, utensils, baking tray, bowl, pie and juice carton. It also features a kitchen area, inside and outside dining areas, counter and cash register.
The bricks do fit with other LEGO bricks, but the set is pretty limited in what you could build from a lot of it. But that doesn't matter to a fan of the LEGO Friends, who wouldn't want to rob the girls of their Café.
Thanks to inneedofabargain at HUKD