Lego Duplo Petrol Station £11.61 @ Argos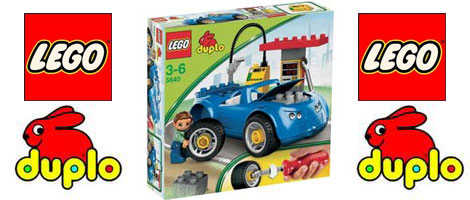 Argos have a nice little exclusive online discount on this Lego Duplo Petrol Station - currently selling it for £11.61 instead of £17.99.
I remember always wanting to have a go at filling up my mum's car as a kid; my kids were the same too, in fact they still are.
My eldest turned 16 earlier this month and he was VERY excited at being old enough to operate the petrol pumps!
Until your little one hits that magic petrol-pumping age, they'll have to make do with operating the pumps at their Lego Duplo Petrol Station instead.
It rather appeals to me - that car has more than a tinge of Bugatti Veyron about it don't you think, or is it just me?
So not only can they fill up their Veyronesque Lego Duplo car, but they can also unleash their inner F1 mechanic and change the wheels and take the engine out too; the Lego Duplo Petrol Station comes with a screwdriver and wrench to help them do this.
One dad reviewer was very happy with his Lego Duplo Petrol Station purchase...
"
The car is well made and has survived been thrown about, stepped on etc. Came with a screwdriver to put the wheels on which is also rather cleverly made - you can't over tighten the wheels.
"
Not only THAT but delivery on this item is F R E E!!  That's right, Argos are going to deliver something for free instead of fleecing you for £5.95 - so now you don't have to go out in the snow!

Thanks to VDubTub over at HUKD

The