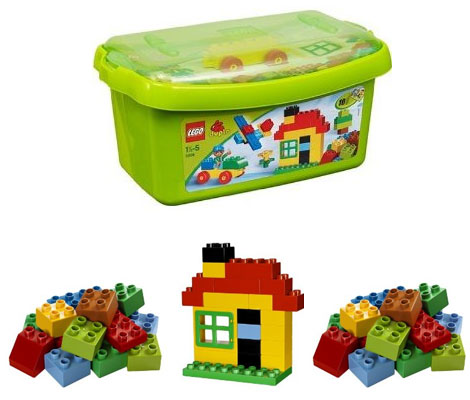 Amazon are currently selling this box of large Lego Duplo Bricks for £15.99 instead of £25.99.
There are 71 blocks in this box of large Lego Duplo bricks, I'm not sure I'd pay £25.99 for them but at £15.99 I'd be tempted if any of my children were young enough for Lego Duplo.
I had to laugh when I read 'Assembly required: yes' in the Amazon blurb - I rather think that's the whole point of anything Lego!
I have a bit of a 'thing' for building things with Lego. It doesn't matter what size the bricks are, large Lego Duplo bricks or standard, Star Wars Lego or Harry Potter it makes no difference, I just LOVE building things - perhaps I missed my calling as an architect.
My youngest loves playing with Lego too and he dreams up all sorts of amazing things to build, his imagination never ceases to amaze me. Me?  I just like building houses or castles - there's that frustrated architect again!
But for times when imagination is, temporarily, lacking this box of large Lego Duplo bricks comes with a little book of 'inspiration' to help you on your way; marvellous.
All the usual Amazon delivery options apply, so free delivery if you're prepared to wait for a few days.
NB - don't forget to go and buy your copy of The Sun newspaper today to start collecting tokens for FREE LEGO!
Thanks to omz45 at HUKD