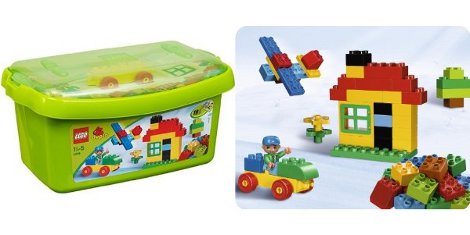 There's 42% off this Large Brick Box from LEGO Duplo on Amazon. It's reduced to £15 from £25.99 and, of course, includes free delivery.
These LEGO boxes come on offer every so often and really don't need much introduction. They are child-safe boxes with basic LEGO Duplo bricks, and this particular box comes with elements needed for special projects – such as window frames, a car chassis and some flowers, if the images are to be believed.
The reviewers for this give it 4.9 stars, which is pretty good, with the only complaint being the usual  one with these boxes: there's a whole lot of empty space in the box which could have had more bricks.
This Lego Duplo Brick Box is a sturdy box for easy storing and tidying away, and it has a transparent lid – great for a quick peak to see whether  Lego Tigger actually made it into the box. Or maybe that's just us.
There's also a building booklet in the box to provide inspiration for all the things you can build with your new blocks.
Thanks to mccririck at HUKD