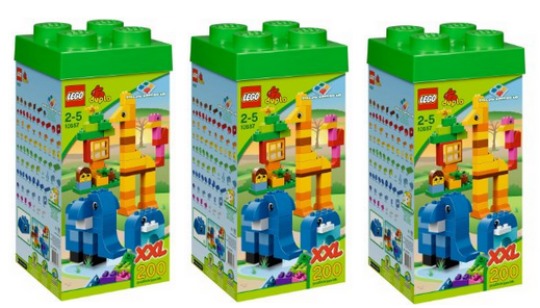 This is the CHEAPEST Amazon have EVER had the Lego Duplo Creative Tower. It's only £29.99 and that includes Amazon's Super Saver delivery. This is a BIG box of Lego Duplo and we know that doesn't come cheap, it's normally around the £50 mark. We can never guess Amazon's stock levels so I would act quick on this, just in case the price shoots up!
This Lego Duplo Creative Tower contains a massive 200 pieces. Think of all the cool things you child can create with that many Lego bricks. They are big enough for little ones NOT to choke on.  This set in particular is suitable for wee nippers aged two to four years old.
The tower box that they come in is ideal to use as tidy storage for them. Some of the bricks have eyes on, some are windows and these are the ones that can be used when creating dragons, castles or anything else your child can think up.
Sets like this are just great to kick start children with construction toys, and they can be added to with other Lego Duplo sets. This really is a fab price for 200 pieces, so get yours ASAP.