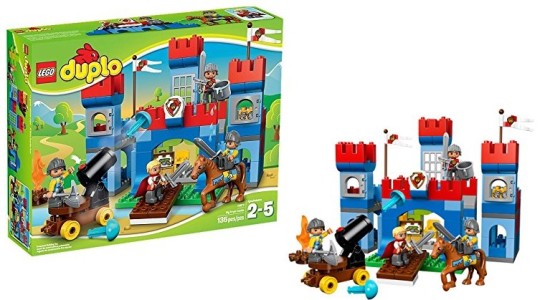 We know there's a few of you disorganised folks out there that are still looking for those toy bargains, so this deal is for you! The Lego Duplo Big Royal Castle is a fantastic price over at Amazon just now. They are selling it for just £29.99 with FREE Super Saver delivery. This set is worth every penny and sells elsewhere for around the £40-50 mark. This will sell out, and if you wonder why go read the four reviews that have all gave it a whopping five stars.
Lego Duplo is such a fantastic gift to give to a little one, and trust me if there was ever an excellent introduction into construction toys this Big Royal Castle would be it. It's suitable for children aged two to five years old, not because it has tiny bits to choke on but it's not suitable for younger due to the complexity of the build.
With this set there 130 pieces, and included in that is Lego Duplo blocks to build the castle, four figures: the King and three Knights. Plus accessories like a horse, swords for the Knights, a cannon, an axe, a throne, a cauldron, some treasure and fire element.
This toy has plenty to fire up your small ones imagination and this really is a super buy. If you managed to nab one of those Bespoke Offers £10 Amazon vouchers then this will work out even cheaper.