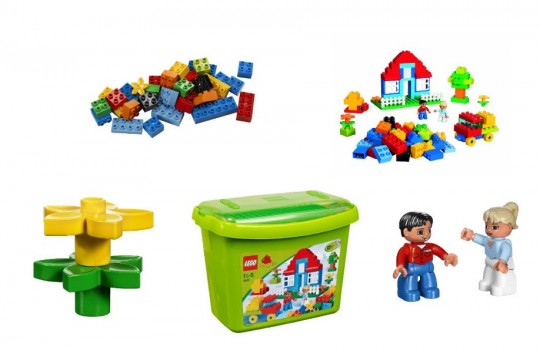 The Lego Duplo Deluxe Brick Box is on offer at Amazon for £20 instead of £35.99, and while it's been rumoured to be cheaper in the past, that doesn't help you much if you want one now, but you can save £15.99 on this offer.
I was looking at some local second hand and Ebay sites recently for exactly this type of Lego Duplo storage box, because we currently have a whole drawer in our cupboard just filled with Duplo and I'd like to reclaim some clothing space! My daughter thought it was a good spot and they've lived there ever since and I've left it be, because it kept the Duplo off the floor and out from under my feet. Well, it seems, looking at second hand sites, that Duplo pretty much retains its value – I didn't really find anything cheaper than £20.
This Duplo storage box has a removable lid and includes 2 minifigures, windows, a building plate, lots of bricks and a wagon base for building moving vehicles and 102 bricks. There's also an instruction booklet with inspirational build ideas.
Thanks to mrT786 at HUKD